VENTURE MANAGEMENT PLATFORM
VENZR
Venzr is an exclusive platform for open plot management. It enables the venture developers, marketers to automate their plot management and commission distribution. It will also let sale reps or marketing executives to look at their progress, availability, sales and commission.
Venture developers can have all their ventures' plot details, sales details, customer details at one place forever. You can reach your customers to promote your new venture new ventures with a click of button. For big and corporate we can provide integrated HR and Payroll systems.
Venture Marketers can manage their sales teams, commission structures, customer payments, commission distributions all in one place. You can promote your ventures to all your customers with ease. All your sales teams will have up to date information about the plots and plots availability on their mobiles.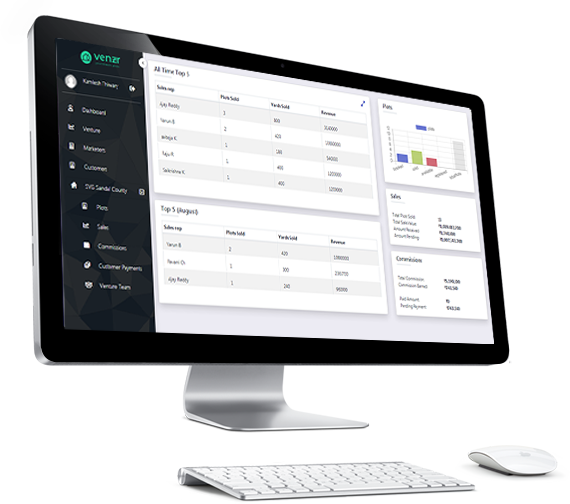 Why
VENZR ?
Venzr is only product in India for exclusive open plot ventures management. Venzr maintains highest standards for security, privacy, and data separation. Venzr provides smartly integrated pages for easy navigation and provides information necessary details without heavy reporting tools.
Venzr is backed by 25 years of Software Development experience and quality concision minds. Customer satisfaction, ease of use, continuous improvements, customer support is our promise you. Our goal is to enhance quality of life and work life balance by providing tools to hard working teams.
ARE YOU STILL MAINTING SALES ON PAPER? Try
VENZR
Yes. Try VENZR. You will be pleasantly surprised. No more maintaining of paper records, no more locking of books in safe place, no more manual calculations, No more carrying of books wherever you go. All you need to have is access to internet on your laptop or mobile. We will help you from onboarding to until everything is setup and until you understand how use it. Support is always single call away.

Anytime and Everywhere

For Developers

For Sales Teams

World Class application
Features
Flexible Commission structure
Auto Commission distribution
Track Customer Payments
Track Salesperson Payouts
Revenue & Projections
Sales & Projections
Email, SMS, WhatsApp notifications
Mobile applications for Plot info
One touch Sales Approvals
Realtime Plot information
Easy Plot administration
Flexible Plot Pricing
Realtime Sales Information
Onboard new Marketers
Create Sales Teams of any depth
100% Secured
Cloud, SaaS, Multi-tenant platform
International Deployment Standards